Opps New Years Resolution Broken, well back in January The Year of Embracing Opportunities and Solving Challenges blog, I was not planning any trips overseas.  Well, this blog is from Gurgaon India. Spending 3 Days training the wonderful staff at API Ruche Experience Centre. This wonderful new center is offering treatments based on world's leading natural products and therapies delivering Natural, Holistic and Bespoke beauty and hair services and products.
I have spent the last 6 months working with the owners to develop the best of the best skincare range for their clients. They wanted to introduce to India a range of skincare that was based on science and not on market hype. The range covers the three main problems that their clients suffer – Acne, Pigmentation, and Ageing. We are using amazing peptides and vitamins to feed the skin and enzymes to brighten the skin without inflaming or inducing post inflammatory pigmentation.
I  am so proud of their staff as we have had 3 very intense training days on Salon Management, Product Information, Science behind the ingredients in the new API Ruche skincare range, Skin Analysis, Preparing the skin for makeup, Hair loss (alopecia), development of services that meet the client's needs.
They have taught me about a "cleanup service" – where you have your skin cleaned and that the facial massages are very strong and intense. Plus they have sent me home with homework wanting the product to help the skin with the damage that pollution causes.
I will keep you informed of the new and wonderfull happenings in the API Ruche skincare range.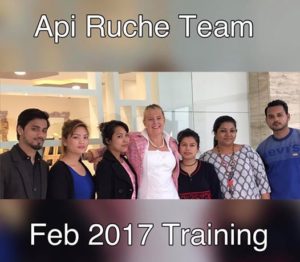 ---
QUESTION ABOUT YOUR SKIN?  Make an Appointment Today or send me an email to debra@debraspence.com
PERMISSION TO REPRINT: You may use this article in your print, blog, magazine or electronic newsletter. But in order to do so, you must include the following paragraph "Information courtesy from Debra Spence – Answering your skin problems with Science and Nature. Debra Spence is a Cosmetic Chemist and Skin Specialist who provides skincare and treatment tips, product recommendations and reviews to professionals and patients.  www.debraspence.com"
Content Copyright © 2016, Debra Spence
All products, material and information provided within this Website are for educational and informational purposes only. No medical claims are implied in the information given and it is not intended to diagnose, treat, cure or prevent any illness or disease. Any reference to health benefits cannot be taken as a replacement for medical advice or prescription medication or seen as a diagnosis for a specific condition. It is not intended to be a substitute for the advice or treatment of your medical professional. The information provided by in this website is believed to be accurate based on the best judgment of the author but the reader is responsible for consulting with your own medical professional / skin therapist. In no way is any of the content on this website to be construed as medical advice or instruction.
---