As shown in last weeks blog – A Spoonful Of Sugar Will Make You Face Fall Down – Or Will It? a diet high in sugar will cause Glycation that attacks and destroys Collagen and elastin leading to the skin to become dry and brittle leading to wrinkles and sagging. Plus glycation deactivates your body's natural antioxidant enzymes, leaving you more vulnerable to sun damage which leads to more skin aging.
Skin care can make a difference. Scientists have been on the hunt for potent anti-glycation agents since the '80s, when biochemist Anthony Cerami, PhD, found that aminoguanidine molecules block glucose-collagen pairs from forming.  Products containing viable AGE fighters only began to appear on the market over the last five years ago. With glycation is widely recognized as a major cause of 20% aging, There are 3 ways a product can help reduce the effects of glycation damage. Firstly an ingredient that prevents or breaks the AGEs forming, second is by stimulates the fibroblasts to build new collagen and elastin. The last way is the best way to boost the anti-oxidants levels in the skin.
These anti-glycation ingredients have come a long way in the last few years and go beyond repairing the odd fine line and wrinkle, they now  helped with the retention of firmness and reduce sagging. While their effects take patience, regular use but many have been proven to improve the skin appearance.
Peptides are amazing new ingredients and the peptide that is specific to help with the side affects of glycation is –
Tetradecyl Aminobutyroylvalylaminobutyric Urea Trifluoroacetate (TAUT).
This a tripeptide it must be a 2.5% strength to be affective. It is a skin conditioning agent which has been shown to have biological activity by boosting the production of hyauronan (HA). HA is a very important molecule for the hydration of the skin, however the levels of HA in the body decrease as the body ages. It has also been claimed that TAUT stimulates the production of the proteins decorin and lumican Decorin and lumican provide collagen fibres with greater structural support by binding the fibres together, to give the skin a fuller and firmer look. TAUT also works by inhibiting elastase (an enzyme that attacks structural proteins) and reducing progerin (a protein responsible for cell death) production. These claims have been backed up by both in vivo and in vitro studies
Copper peptides.
Although this peptide hasn't specifically been developed for sagging, the elastin and collagen boosting properties of copper peptides make it a great anti-aging ingredient that fades wrinkles and firms the skin. There are many studies, such as one conducted in Korea, that demonstrated that copper encouraged collagen synthesis. A 2002 study on 20 women showed that it increased collagen in 70% of those treated with copper, compared to 50% for vitamin C and 40% for retinoic acid.
Albizia Julibrissin.
Also known as Silk Tree or Mimosa of Constantinople, is a deciduous tree of the Mimosaceae family. It is native to East Asia and South America, extract of Albizia Julibrissin capable of inhibiting action on melanin production and stimulating the production of collagen and must be between 2 to 15% in strength to be affective. Anti-glycation properties of this particular plant extract are beneficial in two ways. This plant extract has the ability to interfere with, or block, the glycation process. But, more importantly, the extensive in-vitro testing of this extract showed that it had the ability to break the bond between the sugar molecules and the collagen proteins. This allows the collagen protein to recover its normal shape and function [and] the surface of the skin to recover to a more normal appearance. Because of this, I think that anti-glycation strategies will be the hottest area for anti-aging skin-care products in the coming years.
Anti – Oxidants Ingredients.
Antioxidants, and their fight against free-radical damage, are considered so vital to our understanding of the origins of aging, cancer and disease that they have become a profound area of research. There is a large group of natural and synthetic ingredients that work to reduce free-radical damage and enviornmental stress on skin. Antioxidants have the ability to reduce oxidative damage that destroys and depletes the skin's function and structure while also preventing some of the degenerative effects in skin caused by sun exposure. There is a large number of antioxidants that can be used in skin-care product including alpha lipoic acid, beta-glucan, coenzyme Q10, grape seed extract, green tea, vitamin C, vitamin E pomegranate, curcurmin, turmeric, A variety of berry extracts.
Anti Glycation Skin-Care Product Can Prevent Sugar From Wrecking Your Skin.
Whether you have a sweet tooth or simply find yourself regularly overeating, anti-glycation skin care could be a healthy addition to your skin care regime. Anti-glycation skin care will help improve the for collagen-related skin's appearance, like less thinning and sagging. Below is three products claiming to be anti-glycation skincare for your review.
What are your thoughts on anti-glycation skin care?
Product Overview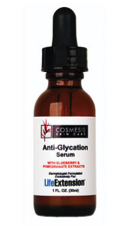 Cosmesis Anti-Glycation Serum – This is only an Anti–Oxidant Product
Cosmesis Anti-Glycation Serum -The combination of blueberry and pomegranate extracts helps rejuvenate aged and photo-damaged skin. This formulation will also soften roughness, hydration, and the appearance of fine lines and wrinkles. This unique serum also has the antioxidant benefits of vitamin C and concentrated tea blend extracts.
Ingredients – Purified water, hyaluronic acid, glycerine, blueberry extract (vaccinium angustifolium), pomegranate extract (punica granatum), vitamin C (sodium ascorbyl phosphate), concentrated tea blend extract, phenoxyethanol, ethylhexylglycerin.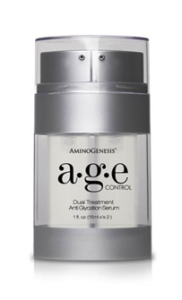 A.G.E. Control by AminoGenesis – use of Albizia Julibrissin
It claims is was the first product to help stop the Glycation process and also help reverse the damage to important skin proteins like collagen and elastin. (In vitro tests).
Ingredients – Water, Di-PPG2-Myreth-10 Adipate, Albizia julibrissin (2% am formula, 4% pm formula), Glycerin, Cetearyl Alcohol (and) Dicetyl Phosphate (and) Ceteth-10 Phosphate, Diethylene Glycol Monoethyl Ether, Cyclopentasiloxane (and) Cyclohexasiloxane, Cetearyl Alcohol, Steareth-10, Phenoxyethanol, Steareth-2, Carbomer, Postassium Sorbate, Sodium Hydroxide.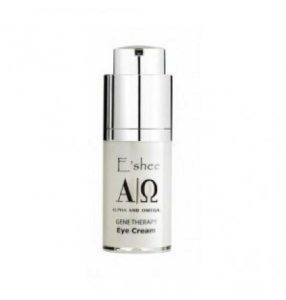 E'shee Clinical Esthetic Alpha and Omega Gene Therapy Eye Cream – use of peptides.
This high end product  uses the advanced restoration formula with breakthrough peptides, Far Infrared Ceramic Powder and the brand's signature epidermal growth factor, FGF1. This powerful eye cream improves skin's firmness and texture, reduces fine lines and deep wrinkles, rebuilds the extra cellular matrix, reduces dark circles and minimizes redness caused by rosacea and broken capillaries. This potent cream can also be used to repair lip lines around the mouth.
Ingredients –  Aqua, Butylene Glycol, Biosaccharide Gum-1, Algae Extract, Hydrolyzed Hibiscus Esculentus Extract, Trifluoroacetyl Tripeptide-2, Hydrolyzed Elastin, Soluble Collagen, Panthenol, Allantoin, Dipotassium Glycyrrhizate, Sodium Acrylates/C10-30 Alkyl Acrylate Crosspolymer, Disodium EDTA, Sodium Hydroxide, Xanthan Gum, Hyaluronic Acid, Sodium Lactate, Mentha Piperita (Peppermint) Oil, Rosmarinus Officinalis (Rosemary) Oil, Phenoxyethanol, Far Infrared Ceramic Powder, CI 19140, CI 16035, Human Recombnant acidic Fibroblast Growth Factor (aFGF)