Sometime in our life we may experience losing eyelashes or damage can be caused by age, illness including a variety of skin diseases, drug side effects, endocrine disorders, metabolic abnormalities, traumatic insults, inflammations, toxins, psychiatric disorders, and systemic disease and the possible physiological disorder of Trichotillomania where the person is pulling the hair out. Unfortunately eyelash loss can be due to hash makeup and the removal of makeup.
Below are Makeup tips on how to help you look like you have beautiful full lashes and to help prevent further eyelash loss. Use good high grade eye makeup will help to prevent losing more eyelashes. It does not have to be expensive. One of my favorite eyeliner is less than $3.oo but it just flows on and dose not scratch or pull at the skin when applying. This is the same for eye shadow and mascara that you choose to use.
Five Makeup Tips to Enhance Eyelashes
Eyeliner will make your eyes stand out without having to have a full fringe of lashes. When lining eyes, place the liner right at the lash line, as the darker lash line will trick the eye into believing that lashes are fuller. The liner shape and thickness will vary depending on the eye look you are wanting. For natural look it is better to keep it thin and as close to the lashes as possible. There is a huge variety of eyeliners on the market, from pencil, liquid and gel. If you love a pencil make sure that you use a pencil that flows gentle on the eye without scratching or pulling at the eye.
If you have some lashes to work with, invest in a good volumizing and lengthening mascara in the darkest shade possible that suit your eyes and complexion. This will help to make what lashes you do have stand out. There is a variety of mascara the two that I love is the mascara that forms tubes around the lash and as you buildup the mascara layer is lengthen the lashes. The second is the mascara that has fibers that adds to the length of lashes.
The most obvious way to add lashes both in fullness and length is False eyelashes. There is stripped, flare and individual. If applying them seems a bit daunting, go to a makeup counter, therapist or makeup artist who sells false lashes and ask them to show you how to put them on the right way and how to remove them. If you have a skin condition that's causing your eyelash loss, check with your doctor to make sure that the glue used to apply the false lashes won't irritate your skin—and take extra special care when removing false lashes, as doing so roughly can prompt more lash loss.
The last way is to highlight your face with makeup to take the focus off your lashes. By highlighting the cheekbones and enhancing the lips they become the focal point of your beautiful face. Book some time with you makeup artist to learn how to highlight your face correctly. Also my two favorite YouTube makeup artist is Wayne Goss  and Lisa Eldridge to help you to learn how to highlight your face.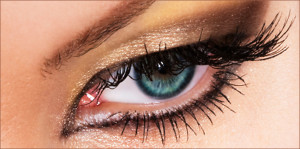 And, of course, having beautiful skin also goes a long way toward helping you to highlight your natural features. So your daily skincare routine should include Cleanse, Feed and Protect System. It is important to cleanse your skin without causing harm to your lashes. Use a cleanser that has been designed to remove makeup from the eye area. Some cleansers are not suitable for the eye area as they have ingredients that can irritate the eyes or affect the very fragile skin around your eye area and your lashes. Be gentle and do not pull or scrub the eye area. Take your time to cleanse softly and thoroughly to remove the makeup and protect your eyes and lashes.
Most important, though, don't ignore it if you notice your lashes falling out more than normal. Your health is the most important thing, and if your start seeing a increase in eyelashes loss as this is your body's way in telling you to see your doctor A.S.A.P!