Whenever you hear someone utter the words valentine day, images of red roses and heaps of lips kissing pop into your mind. It's no secret that a soft and sexy-looking lip's makes for an irresistibly kissable pout but you do not want your lipstick to end up on your teeth, or all over his lips or his collar.
By taking the time when applying your lipstick with these extra steps, you'll save yourself the frustration of the hourly reapplication of your lipstick and wiping it off the places lipstick should never go. To start the kissable makeover of your lips
Step 1 – Clean and Exfoliate
Remove all the dead skin off your lips gives your lipstick a fresh palette to adhere to.
There are products on the market that you can buy but this is one thing I like to make fresh from my kitchen and so can you.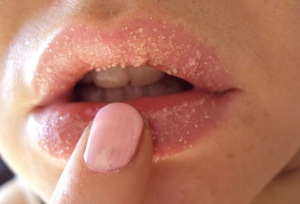 Ingredients
1 tablespoon of olive oil or coconut oil (clean/moisturize the lips)
1 teaspoon of sugar or salt (exfoliate the skin)
You can add a little honey and cinnamon too.
Method
Mix ingredients together in small bowl or even on the palm of your hand. Using your index finger, rub on dry lips gently, in small circular motions. Scrub for 2-3 minutes. Wipe with a warm washcloth until all exfoliation is removed. This can be done once-twice per week. Please remember that over exfoliating can cause damage and make your lips sensitive. Now that you lips are cleans and exfoliated pat dry.
Step 2 – Apply lip liner
If you want your lipstick to last and not bleed outside your lips, fill in your entire upper and bottom lip with liner, as this will prime your lips for your lipstick. This is an important step. Lip liner is drier than lipstick and will adhere to your lips better, which will help the colour stay, even if your creamy lipstick formula wears off.
Step 3 – Apply lipstick and Blot
Apply your lipstick, as you normally would, then blot the excess off with a tissue. Repeat 3 times. Layering your lipstick in this way will help your lipstick to stay on longer. Marilyn Monroe always use 3 different shades of red or pink to give that fuller voluminous look. Start with the darkest colour first and then lighter blotting between each layer.
Step 4 – Powder up. To prevent your lipstick from rubbing off.
This works especially well with high-gloss pigments that go haywire in the heat. After applying your last lipstick layer and blotted with a tissue. The final step is using an invisible setting powder with a small fluffy blush brush. Placing only with a small amount on the brush then lightly tap the brush any excess off the brush. Then apply to the lips. The powder will absorb the excess moisture of the lipstick and keep it in place.
Lip gloss if you want and let your lips sparkle.
Many Kisses to you.