We are creature of habit and sometimes we have skin care habits that are damaging to our skin. When my grandmother cleansed her face she used soap. Today we would never consider soap as the best form of cleansing our face especially the commercial mass produced soaps that have the hydrating glycerin ripped out as it would lead to very dry skin. But what skincare habits have we picked up that is damaging our skin.
8 skin care habits we're all guilty of  and that we need to break asap.
OVER EXFOLIATING – LESS IS MORE
The No1, cause of damage and aging from skin care is the use of exfoliation. If you over exfoliate you are buff away too much of your top skin layer and removing the protective barrier that your skin. When we remove the protective barrier, your skin is exposed to environmental toxins and sun damage, causing aging, sensitivity and in-balance of the pH of your skin that can lead to excessive dryness and variety of skin conditions and rashes. When you use a good cleanser day and night then you only need to exfoliate once a week max.
OVER-USING ALL OF YOUR PRODUCTS – A LITTLE GOES A LONG WAY
We tend to think if a little works then alot will work even better. The products second to exfoliants that are being over used is anti-acne and anti ageing products. These products have high active ingredients and when they are over used they will compromises your skin and can cause more problems than the ones they are designed to solve. Follow the product instruction and when used correctly they will deliver the results that they are designed to do.
NOT CLEANSING PROPERLY
You cannot get a good cleanse if you are using the incorrect cleanser for you skin type. Make sure you purchase the correct cleanser and then follow the product directions on how to use it. Part of cleansing is the use of a toner; some companies do not support toners or even have them as part of the range.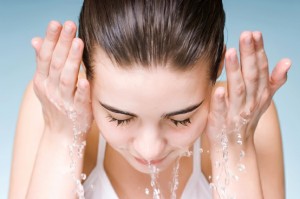 After many years in the industry I know that when you use a cleanser/toner combination your skin is completely cleansed and ready for the next step of your skincare routine. Plus your toner can have valuable ingredients (anti acne ingredients e.g. salicylic acid) that is not being washed down the sink and is able to improve the skin.
NOT REMOVING YOUR MAKEUP
We have all done this; party too hard and drop into bed without removing our makeup, this is okay but it should not be an everyday habit. Not removing your makeup clogs your pore and oil glands, which impacted pores leading to them appearing larger, plus once they are enlarged it is very hard to reduce them. Also clogged pores can lead to pimples and blackheads or even inflammation that can cause permanent damage to the skin. Your skin will love you for cleaning your makeup off plus your bed linen.
NOT APPLYING PRODUCTS IN THE CORRECT ORDER
Simple rule "CLEANSE/FEED/PROTECT" – Products are design for particular jobs for example your serums are light in weight and design to penetrate the skin where as your moisturiser is design to hydrate the skin and place a protective lay over the skin to prevent water loss. It is very simple 1ST Cleanse/Tone – 2ND Serums – 3RD Moisturiser – 4TH Sun Protection – 5TH Optional – Makeup.
NOT WEARING SUNSCREEN EVERY DAY
I am a sun lover and love the outdoors but even when I am working in my office all day I still protect my face. The best protection against skin aging is a good zinc based sunscreen. Wear it everyday on your face, neck and décolletage to reduce the aging affects of the sun.
TRYING TO EXFOLIATING AWAY OILY SKIN
When you exfoliate you trigger your skin to rebuild the protective barrier – sebum. If you over exfoliate you put skin's natural repair mechanism into overdrive and the oil production actually speeds up because. By using a toner after your cleanser and throughout the day it will help keep your skin at the correct pH balance thus not triggering extra oil production. Again when you use a good cleanser, day and night then you only need to exfoliate once a week maximum.
NOT MOISTURIZING OILY SKIN
It's a common misconception that those with an oily skin should avoid moisturizers. Regardless of your skin type, it's imperative that you moisturize daily and apply a heavier cream at night and it is vital to reduce water loss. With oily skin types if you do not moisturise the skin will overcompensate for the water loss by producing more oil, this will leaded to breakouts and an uneven skin texture.
Remember Less is more, remove your makeup at the end of the day and use your skincare products in order and you will be on your way to healthy skin. Do you have any bad skin care habits? Leave a message or a question about any skin concern and I will love to help you.