In today's market with the growing demand for natural and organic skincare there is one synthetic – petroleum based product that has amazing – healing and moisturizing properties – Vaseline or Petrolatum Jelly. In this article we explore the history and properties of this product and why I use it when all else fails. We also look at the benefits that it has offered to the medical group and is there a natural alternative.
History of Vaseline.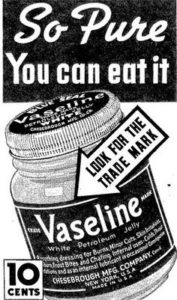 Petrolatum was patented in 1872 by a Robert A Chesebrough , who named his invention Vaseline. In this patent this items primary use is for leather treatment and hair pomade plus for the treatment of chapped hands. The American Pharmaceutical Association in 1875 was found that it could be used for treating burns and scalds replacing the use of Lard that had a problem of going rancid. It was not long after this that had a moisturizing property by cosmetic manufactures that then used it in skincare products, in 1880 the first patent was lodge where petroleum in skincare. They thought it was so good that you could eat it. That is one thing I do not recommend to anyone.
Why does Vaseline Work?
There are two types of moisturizer the first type is one that adds moisture to the skin and the other stops the natural moisture that the skin produces being lost to the atmosphere. Due to the large molecule size of Vaseline it coating of the skin outer layer Stratum Corneum and prevents water loss from the skin Trans-epidermal Water Loss (TEWL). (1978 Kligman study and backed by Rieger Study in 1981). In a study done by Obata and Tagami who Evaluated the effectiveness of Vaseline skin hydration found that over 120mins it provided more hydration compare to the control subjects and a control moisturising cream. A significant increase in skin hydration was found when the study was carried out over 4 week. It was found to reduced TWEL up to 50% (Loden 1992). In Another study on permeability against industrial sealant Vaseline was found to give over 5 hours protection compare to a silicone based cream. Nothing can get in or out once the jelly is applied.
Is Vaseline harmful to the user?
The concern that using petroleum jelly can cause cancer arose because components that are removed from the oil during the refining process of petroleum jelly are carcinogenic in some cases. Petroleum Jelly is highly-refined, triple-purified and regarded as non-carcinogenic and is a considered to be a low-hazard product.
Medical Uses for Vaseline
Vaseline is a bi-product of Crude oil and is super refined and does not allow for microbial growth which is very important for medical use to and the health of the patient.
Diabetic – protect the feet from becoming too dry and causing skin slitting.
Bed ridden Patients – skin lubricant and moisturizer to help prevent bed sores
Eczema Treatment – To soften the skin and prevent dry cracking scabs developing
Wound Care – Standard, which all new burn dressings are measured to see if the product shortens healing time and pain reduction. It is also provides an ability to make a wound water resistant and reduce environmental infections from air and water.
Sports Medicine – as a lubricant to reduce foot blisters, skin cracks and body friction sores.
Delivery system- Many studies have shown that the use of Vaseline as a carrier that allows the active ingredient to be absorbed into the skin and reduce the environmental loss of the active ingredient.
Hair-care using Vaseline
Many of the large well-known companies like Revlon and Shiseido have used and patent hair care products that use a percentage of Petrolatum in their products for the following reasons.
Reduced scalp irritation
Hair relaxer
Protect hair from heat damage
Dandruff treatment
Hair moisturizer/conditioner/setting products/
Vaseline and Skin Care.
Petrolatum has been used as an ingredient in many skin care products due to its ease to use in formulas, its very low cost and the high benefits that it returns in skin hydration. Even today there are still patents being lodges sighting the use of Petrolatum in the formula.
In simple terms applying Vaseline on the skin will stop the skin from losing water preventing the skin to become dehydrated. It is not adding moisture to the skin and because of its large molecules size it does not absorb into the skin. This is why it is perfect for people suffering from contact dermatitis and other abnormal skin problems. Petroleum Jelly allows for the skin to use its own moisturizing properties to heal and return the skin to its natural pH level. When I have a patient that has a skin condition that is not responding or have skin that is hyper sensitive to all skincare products and treatments I will prescribe the use of Petroleum Jelly for 1 month to allow the skin to naturally re-balance it's own pH and acid mantel.
Read: Do Cosmetic Ingredients penetrate skin
Is there a Natural Alternative to Vaseline?
For years I have been trying to formulate a natural alternative. I have been able to come close with the use of Lanolin, Bees wax, Shea butter and other natural oils. Even though it gives the coverage that Vaseline does it is not as easy to spread and it will very slowly absorb into the skin. The benefit of the natural alternative is that it not only gives you a TEWL protection but also it has the added benefit of moisturizing the skin. You will have to re-apply more often than with Vaseline and it will not give the wound healing or have the full anti-microbial cover that Vaseline has but it will be great for chaffed lips or dry skin.
♠♣♥♦♠♣♥♦♠♣♥♦♠♣♥♦♠♣♥♦♠♣♥♦♠♣♥♦♠♣♥♦♠♣♥♦♠♣♥♦♠♣♥♦♠♣♥♦♠♣♥♦♠♣♥♦♠♣♥♦
QUESTION ABOUT YOUR SKIN?  Make an Appointment Today or send me an email to debra@debraspence.com
PERMISSION TO REPRINT: You may use this article in your print, blog, magazine or electronic newsletter. But in order to do so, you must include the following paragraph "Information courtesy from Debra Spence – Answering your skin problems with Science and Nature. Debra Spence is a Cosmetic Chemist and Skin Specialist who provides skincare and treatment tips, product recommendations and reviews to professionals and patients.  www.debraspence.com"
Content Copyright © 2016, Debra Spence
All products, material and information provided within this Website are for educational and informational purposes only. No medical claims are implied in the information given and it is not intended to diagnose, treat, cure or prevent any illness or disease. Any reference to health benefits cannot be taken as a replacement for medical advice or prescription medication or seen as a diagnosis for a specific condition. It is not intended to be a substitute for the advice or treatment of your medical professional. The information provided by in this website is believed to be accurate based on the best judgment of the author but the reader is responsible for consulting with your own medical professional / skin therapist. In no way is any of the content on this website to be construed as medical advice or instruction.
♠♣♥♦♠♣♥♦♠♣♥♦♠♣♥♦♠♣♥♦♠♣♥♦♠♣♥♦♠♣♥♦♠♣♥♦♠♣♥♦♠♣♥♦♠♣♥♦♠♣♥♦♠♣♥♦♠♣♥♦