To solve the mystery of why some products don't work, why some will give you an adverse reaction but also why some products are more effective, work faster, and last longer and cost more, you need to look at the science of encapsulation. Many ingredients are not encapsulated and rely on the formula and the ingredients own absorption properties to deliver benefits to the skin. For many active ingredients (peptides) and highly unstable (vitamin C and A) or water-soluble ingredients who have difficulty penetrating the lipid membrane of the skin scientist came up with an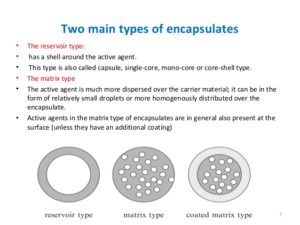 Encapsulation is a description of an ingredient that has been coated with an external ingredient to make sure that the encased ingredient is protected and then delivered properly into the skin to ensure that it can be able to give the results that is required from that ingredient. In the encapsulation process, the active ingredients is placed into tiny spheres that are able to penetrate the top layers of the skin – Stratum Corneum . It is the size of the sphere determines how deep the ingredients are delivered and what type of encasement ingredient will determine when they will be released. In attached diagram  it shows the different way in which an active ingredient can be encapsulated.
Read: Do Cosmetic Ingredients penetrate skin
Other benefits of Encapsulation
Encapsulation in some cases is design to isolate the active ingredient from other ingredients within a formula so that it would not incur deterioration and reducing the effectiveness of the active ingredient. For example Vitamin C and Vitamin A will cancel each other out unless one or both are encapsulated. Another benefit of encapsulation is to reduce the effects of oxidation and slowing down the evaporation rate of the active ingredient and ensure highly irritating ingredients like vitamin A is delivered to the skin with reduce skin surface reaction.
Read: All the benefits of Vitamin A
Though encapsulated ingredients are far more expensive than their non encapsulated counterparts if you are wanting the best results and without reaction to obtain glowing skin then they are far more cost effective and delivering the maximum results that you want. All Zen de Jour's Vitamin A and C skincare products are encapsulated.
♠♣♥♦♠♣♥♦♠♣♥♦♠♣♥♦♠♣♥♦♠♣♥♦♠♣♥♦♠♣♥♦♠♣♥♦♠♣♥♦♠♣♥♦♠♣♥♦♠♣♥♦♠♣♥♦♠♣♥♦
QUESTION ABOUT YOUR SKIN?  Make an Appointment Today or send me an email to debra@debraspence.com
PERMISSION TO REPRINT: You may use this article in your print, blog, magazine or electronic newsletter. But in order to do so, you must include the following paragraph "Information courtesy from Debra Spence – Answering your skin problems with Science and Nature. Debra Spence is a Cosmetic Chemist and Skin Specialist who provides skincare and treatment tips, product recommendations and reviews to professionals and patients.  www.debraspence.com"
Content Copyright © 2016, Debra Spence
All products, material and information provided within this Website are for educational and informational purposes only. No medical claims are implied in the information given and it is not intended to diagnose, treat, cure or prevent any illness or disease. Any reference to health benefits cannot be taken as a replacement for medical advice or prescription medication or seen as a diagnosis for a specific condition. It is not intended to be a substitute for the advice or treatment of your medical professional. The information provided by in this website is believed to be accurate based on the best judgment of the author but the reader is responsible for consulting with your own medical professional / skin therapist. In no way is any of the content on this website to be construed as medical advice or instruction.
♠♣♥♦♠♣♥♦♠♣♥♦♠♣♥♦♠♣♥♦♠♣♥♦♠♣♥♦♠♣♥♦♠♣♥♦♠♣♥♦♠♣♥♦♠♣♥♦♠♣♥♦♠♣♥♦♠♣♥♦