First up, I want to say that I love all my clients and patients equally.  This post is not about 'picking' on vegan or vegetarian dietary lifestyles but I do want to try to explain some complicated research that has been done.  But to do so, I'm going to avoid too many technical or medical terms.  If you are interested in reading the research, then I've added the references at the end.  Basically, this research shows that bodily organs age faster if you choose a vegan or vegetarian – rather than omnivore – dietary lifestyle. This is because bodies cannot efficiently utilise or transform plant-based versions of amino and other essentials into usable nutrients, which in turn can lead to an overload of sugars leading to glycation.  Regardless of your dietary lifestyle, I believe we all need to watch our diets to ensure we have a well balanced diet.
Best foods for your chosen lifestyle
Whenever I lecture about nutrition, I always point out the best foods that omnivores, vegetarians and vegans should eat. Whatever your dietary lifestyle there are some key foods and food groups you need to include to make sure you get the correct vitamins and minerals.  For example, omnivores should eat vegetables, meat and dairy.  Vegetarians or lax-ovovegetarians should eat vegetables, grains, dairy and eggs.  Vegans do not eat animal meat or food derived from animals so they need to boost the intake of nutritional vitamins and minerals from fruit, vegetables and grains.  Each dietary lifestyle has its own pros and cons.  Some people choose to avoid certain foods for many reasons including ethical reasons, allergies, and religious, environmental, social or political reasons.  The dietary lifestyle you choose is personal to you.  But I believe that consuming enough good natural (preferably) organic vegetables and fruit, free range and grass fed meat, certain seafood plus good quality dairy products and some grains guarantees a healthy outcome for any bodily function and the largest organ of all – your skin!
In this blog I explain about the food pyramid, how our bodily organs need feeding and the order they are fed, what every body needs – regardless of your dietary lifestyle – and the effect of too much carbohydrate.  I discuss why vegans and vegetarians can age faster than omnivores because of a lack of certain complex amino acids, an imbalance of and a different absorption rate of Omega 3 to Omega 6s , too many carbohydrates and an overload of soy.
The food pyramid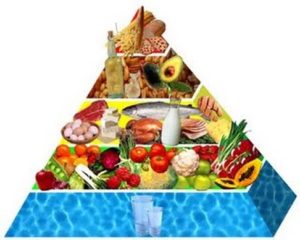 I believe in a simple food pyramid and its not the one many  public health authorities recommend that recommends large amount of wheat and grains.  You don't need to classify yourself by a particular dietary lifestyle as a vegan, vegetarian, omnivore or some combination.  We all start out with the same human body and bodily functions. Our dietary lifestyle can then affect how the body functions. I believe everyone's diet should (apart from water) be mostly dark green vegetables, then any other colored vegetables. The next largest amount of food is quality animal proteins and the smallest amount is what I call white food which includes white vegetables and grains. This simple pyramid is a great guide to a healthy body and a youthful glow.
Feeding your body's organs is vital
Vegan bodies act just like everyone else's body.  The brain is the first organ to be fed, then our heart, lungs and other organs and lastly our skin.  It's no wonder if you we have a poor nutritional diet our skin will show it and we will age faster.
Amino acids – the body's building blocks
Humans cannot produce 9 of the 20 amino acids required for good health, so they must obtain the nutrients through food we consume on a daily basis. Amino acids are an important anti-ageing ingredient and an essential component of our mental health too.  Dietary lifestyles that allow for dairy and eggs are able to obtain the essential amino acids very easily where as vegan lifestyles need to work harder at this.   They must eat enough legumes, soybeans, quinoa and spinach every day to obtain the necessary amino acids.  If they don't their bodies will start to 'eat itself' to get these amino acids.
The two amino acids needed to fight anti-ageing and improve skin health are Lysine and Methionine. These convert into Carnitine which elevates anti-oxidant activity, to help your body improve its anti-ageing activity.
Vegan lifestyles can have unbalanced levels of Omegas 3 and 6
Omega 3 is a fat that is readily available from many foods.  The big issue with this fat is that there are types of foods that most easily absorb into the body.  For nonvegans, these come from oily, cold water fish, or egg yolks.  For vegan dietary lifestyles, Omega 3 fats from plant-based sources, for example flax seed and chia seeds, have to be first converted in the body to Omega 3 DHA and EPA.
Research shows that only a very small amount of plant based Omega 3 -ALA can actually be converted to DHA and EPA. One study showed that only 2-10% of ALA can be converted, but other studies have shown this to be around the 1%, or even less. Adding to the problem of low conversion rates of Omega 3s (from grain, soy and vegetable sources), is these are high in Omega 6. Omega 6 is important in any dietary lifestyle but too much Omega 6 fat can cause many health problems. The health problems are increased inflammation in the body, including the joints which can contribute to arthritis, and in the blood vessel linings which can increase the chances of heart attacks and strokes. Plus medical studies have documented that it a diet high in Omega 6 will cause weight gain, and even cancer. The more Omega 6 fats in a diet, the more Omega 3 fats that are needed to balance and prevent these health problems. The conversion rate of Omega 3-ALA is also affected by deficiencies of B vitamins, magnesium, and zinc.  These are common deficiencies in vegetarian and vegan lifestyles that will inhibit the conversion rate.  When added to other factors such as age, genetics, poor digestion, protein deficiencies, and other health conditions, it is even more difficult to obtain the correct amount of Omega 3 from plant based sources.
Not enough Omega 3 in any diet will show on your face and skin
If you have too much Omega 6 in your diet and not enough Omega 3s, your skin will be affected.  It will look drier; lack normal elasticity and the natural oils needed to keep it soft and supple. Surface wrinkles will appear and the skin will look rough, blotchy, bumpy and dry, and hair may end up looking dull, lifeless and brittle, along with a sprinkling of dandruff. If that's not enough, the lack of Omega 3 can also increase acne, eczema and psoriasis.
Vegans eat too many carbohydrates
In our fast paced lifestyle grabbing food that might be high in the wrong type of fat, sugar and low GI foods will lead to weight gain and an increase in the risk of diabetes. Also increasing simple carbohydrates increases the ageing process because of a process called 'glycation'. Glycation can damage every known organ system in the body including your skin.  The sugars in simple carbohydrates break down proteins in the body and then your cells lose function, it slows and starts to die. Vegan lifestyles need to consume higher amounts of the right carbohydrates to obtain the correct amount of protein to minimize glycation. A group of long-term vegetarian (lacto-ovovegetarians) and omnivore dietary lifestyle eaters from the same region in the Slovak Republic were studed.  In summary, the results showed that the omnivores actually consumed a little more Saccharides (simple sugar found in carbohydrates) each day than the vegetarians but the vegetarians consumed significant amounts of fruits and vegetables, giving them a significantly increased intake of fructose (a type of sugar). When the researchers measured levels a type of glycation, it was found to be significantly elevated in vegetarians compared to omnivores, and the index of advanced glycation was in direct alignment with the increased amount of fructose.
Read: Sugar and Aging – Glycation
Overload of soy
To substitute many dairy and meat products, soy is often used. Over 90% of available soy produce is genetically modified.  As a cosmetic chemist I have seen how GM ingredients are not recognized by the skin cells so it is seems to make sense that GM ingredients wouldn't be recognized by our digestive systems either.  Even if vegan or vegetarian dietary lifestylers are very careful and source non-GM soy, the soy has several toxic anti-nutrients.  Soy can really play havoc with endocrine systems, which control hormones and can lead to many skin problems including acne. Also, soy has enzyme inhibitors which block the action of enzymes, and these are needed to digest proteins.  This leads to a reduction in absorption of protein and amino acids.  And our bodies need amino acids!  Another enzyme that is inhibited by soy is 'trypsin'.   Research states that ingesting large amounts of soy, especially in a non-fermented form such as edamane, can cause abnormal and stunted growth patterns in children. Other side effects can be abnormal clotting of the blood, abnormal thyroid function leading to hypothyroidism, and deficiencies in calcium, zinc, magnesium and copper. But, the fermented forms such as tofu seem to have less of an impact on the body.
Dietary lifestyles are an individual choice
If you choose a vegan or vegetarian please be vigilant about what you consume.  Anyone can take their eye off the dietary ball – even me! – and if we do for a long enough period of time, we end up having an incomplete diet which can lead to ill health and our organs won't function properly.  If an omnivore is feeling run down and has lower than normal levels of iron (for example, around their menstrual cycle) they can 'grab a steak' and quickly boost those levels.  Vegan and vegetarian lifestyles can't get a 'quick fix' like that so vigilance every day to your diet is really important.
♠♣♥♦♠♣♥♦♠♣♥♦♠♣♥♦♠♣♥♦♠♣♥♦♠♣♥♦♠♣♥♦♠♣♥♦♠♣♥♦♠♣♥♦♠♣♥♦♠♣♥♦♠♣♥♦♠♣♥♦
QUESTION ABOUT YOUR SKIN?  Make an Appointment Today or send me an email to debra@debraspence.com
PERMISSION TO REPRINT: You may use this article in your print, blog, magazine or electronic newsletter. But in order to do so, you must include the following paragraph "Information courtesy from Debra Spence – Answering your skin problems with Science and Nature. Debra Spence is a Cosmetic Chemist and Skin Specialist who provides skincare and treatment tips, product recommendations and reviews to professionals and patients.  www.debraspence.com"
Content Copyright © 2016, Debra Spence
All products, material and information provided within this Website are for educational and informational purposes only. No medical claims are implied in the information given and it is not intended to diagnose, treat, cure or prevent any illness or disease. Any reference to health benefits cannot be taken as a replacement for medical advice or prescription medication or seen as a diagnosis for a specific condition. It is not intended to be a substitute for the advice or treatment of your medical professional. The information provided by in this website is believed to be accurate based on the best judgment of the author but the reader is responsible for consulting with your own medical professional / skin therapist. In no way is any of the content on this website to be construed as medical advice or instruction.
♠♣♥♦♠♣♥♦♠♣♥♦♠♣♥♦♠♣♥♦♠♣♥♦♠♣♥♦♠♣♥♦♠♣♥♦♠♣♥♦♠♣♥♦♠♣♥♦♠♣♥♦♠♣♥♦♠♣♥♦
Medical research references:
Omega-3: ALA intakes enough for EPA/DPA levels for non-fish eaters?  By Stephen Daniells, 08-Nov-2010 – http://www.nutraingredients-usa.com/Research/Omega-3-ALA-intakes-enough-for-EPA-DPA-levels-for-non-fish-eaters
Would Carnosine or a Carnivorous diet help suppress aging and associated pathologies? – http://www.ncbi.nlm.nih.gov/pubmed/16804013?ordinalpos=5&itool=EntrezSystem2.PEntrez.Pubmed.Pubmed_ResultsPanel.Pubmed_RVDocSum
Michael Eades, MD, "Vegetarians AGE faster", https://proteinpower.com/drmike/