Are you at risk of cancer -breast, bowel and prostate – as well as osteoporosis and MS because you are constantly avoiding the sun and over using sun screen??? The media and authorities have us covering up and lathering our skin with sunscreens without taking into account the risk of low vitamin D. Lets face the facts and enjoy protection and health from the sun-rays.
Sun light makes us feel good, it warms us, it feeds us natural vitamin D and helps promotes a healthy mental state and some serious life threatening illness. All good things must be kept in moderation. As prolong exposure will lead to photo aging and maybe skin cancers. It must be noted statistically skin cancers including melanoma are a smaller risk to our health than the diseases promoted by inadequate vitamin D. It is important that we have to find the perfect balance between the benefits and the dangers of sunlight.
The reason we use sunscreen.
We are trying to protect ourselves from two main UV rays, UV-A and UV-B. UV-A rays penetrating into the dermis, they injure the fibroblasts and dermal matrix causing the photo aging and act as a key role in the development of skin cancers. It also will deplete vitamin A and destroy vitamin D. Unlike over exsposure of UV-B we're will not immediately feel the damaging effects as they do not show evident as redness on the skin for about 24 hours after exposure. UV-B rays can only penetrate the epidermis and is the cause of the skin burning and redness after to much exposure. Even though UV-B rays are more powerful than UV-A rays the atmosphere natural filters it and only about 5% of UV-B radiation reaches the skin.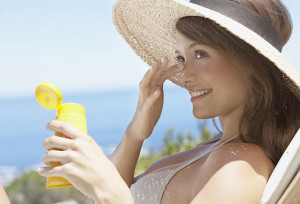 Over the last decade in our sunscreens have came a long way and also educating us on the benefits of using sunblocks and the dangers of not using them. But what is the truth and do you need to be wearing total block sunscreen out every second of the day? We have been deceived into believing that sunscreens especially the "total block" sunscreens, will keep us 100% safe and we therefore stay out in the sun for longer periods of time. The truth is that these total block-out sunscreens don't protect the skin nearly as much as we think they do.
Most chemical sunscreens – give protection from the sun but some will still allow more than 60% of UV-A to filter through. Also these chemical sunscreens will gradually and progressively become inactive the more they are exposed to the sunlight. These sunscreen will need you to reapply every 2 hours whether you are just out in the sun/swimming/sweating to maintain adequate protection.
Natural sunscreens reflect the sun are made from titanium dioxide and zinc oxide they provide better UV-B and UV-A protection than chemical sunscreens. They do not deteriorate when exposed to sunlight, but as they sit on top of your skin  they will dilute when exposed to sweating and swimming. Therefore, you need to reapply when playing sports/actively sweating or swimming.
No sunscreen is going to give you 100% protection but we do not need 100% protection as we would become a high risk of becoming sick. Get some sun exposure  to protect you from mental health and cancers -breast, bowel and prostate – as well as osteoporosis, MS and other related low vitamin D disease but wear the correct sunscreen for the activity. For daily "normal" exposure, a product with SPF 4 to 8 is usually quite adequate. It will allow you to make vitamin D without permitting significant sun damage. For prolonged outdoor exposure, use a sunscreen with an SPF 16 to 20 that contains zinc oxide and/or titanium dioxide for greater UV-A and B protection. Always reapply after swimming and sweating.
I use 100% zinc sunscreen on my face ONLY – every day and no sunscreen on my body. If I am out all day in the sun, at the beach then I apply 100% zinc sunscreen all over and after swimming this ensures that I am protecting my face from photo-aging but still giving my body a chance to produce vitamin D naturally and protecting me from horrible diseases.