I can hear the song ringing in my ears. "A spoon full of sugar makes the medicine go down." Mary Poppins, 1964. And wonder how can sugar and aging effect our skin.
It's a hard pill to swallow, but experts now believe that a lifetime of over indulging in refined sugar can age us,  make skin dull, sag and wrinkled leading us to age more quickly than we would hope to through a process of Glycation. A study completed by Leiden University Medical Centre in the Netherlands, and Unilever in the UK for the first time has found a direct link between the amount of sugar circulating in the blood and how old a person looks. Scientists measured the blood sugar levels of 600 men and women aged between 50 and 70 and took their photo. The photos were then given to an independent group of 60 who had to estimate the age of each person. It was found that those with higher blood sugar looked older than those with lower blood sugar. Dr David Gunn, a senior scientist at Unilever who helped conduct the trial said that "when they were collating the results they also took into account other factors such as whether or not that person smoked and yet the effects were clear — the higher the blood glucose, the older the person looked. Sugar and aging go hand in hand. So why is blood sugar levels affecting your appearance and what can be done to reverse this problem.
Why Sugar Is Aging Your Skin
When you ingest sugar or high-glycemic foods they are rapidly convert into glucose, which raises your insulin levels too quickly. When insulin levels spike, your body sees it as an inflammation. The inflammation produces enzymes, which in turn that break down collagen and elastin, a process known as glycation.
What is glycation how it affects the skin
Glycation, is when the sugar in your bloodstream attaches to proteins to form harmful new molecules called "Advanced Glycation End (AGEs). The more sugar you eat, the more AGEs you develop. As AGEs accumulate, they damage adjacent proteins and the most vulnerable proteins to damage is collagen and elastin. Collagen and elastin are the protein fibers that keep skin firm and elastic. Once the collagen and elastin is damaged they become dry and brittle leading to wrinkles and sagging.
There are 3 different types of collagen, known as I, II and III, and for healthy looking-skin you need the correct balance of all 3. The problem is that Glycation not only damages Collagen it also transforms type III collagen into type I, which is more fragile and quicker to damage. Consequently, the skin breaks down and looks thinner.
The final assault AGEs is that it also deactivates your body's natural antioxidant enzymes, leaving you more vulnerable to sun damage which leads to more skin aging.
One group that knows all too well sugar's ravaging effects is people with diabetes, often show early signs of skin aging. It has been shown that Depending on how well diabetics is controlled or not controlled, they can have up to 50 times the number of AGEs in their skin as those who don't have diabetes," says Karyn Grossman, MD.
How much sugar and what type of sugar can I have before developing AGEs and see the Effects of Glycation.
How much sugars can you tolerate before glycation occurs will depends on your age, metabolism and how much you exercise. 'If you're an active 25-year-old, your body can tolerate more sugar than if you are a sedentary 45-year-old.' The aim should be to ensure that all types of sugar make up less than ten per cent of your total diet.
There are Good Sugars and Bad Sugars
So how easy is it to cut sugar from your diet? Unfortunately, it's not as simple as resisting the lure of the chocolate bar when the 3 0'clock munchies hit you. It is any food with a high Glycaemic Index (GI) — which will cause a spike in blood glucose. Start by cutting down refined carbohydrates, things like cakes, biscuits, Soda/Energy drinks and the number of sugars in your tea/coffee.
Start reading your ingredient lists on the food you buy as many of them have, what we call "hidden sugars" I found that they even add sugar to Smoke Salmon. Out of 12 different packets of Smoke Salmon I only found 2 that did not have sugar on the ingredient list. I do not know why you put sugar on fish but they do.
Swap high glycaemic index for low glycaemic index foods, complex carbohydrates, like beans, nuts and vegetables, which are broken down into glucose at a slower rate and not cause that insulin spike. For example I love sweet potato (low GI) chips instead of normal potato (high GI). A piece of fruit with all its dietary fibres and nutritionist over a glass of fruit juice high in added sugar.
Also add some an anti-inflammatory healthy fats (like olive oil and avocados), lean protein (like salmon), fiber (like broccoli and cauliflower) and antioxidants (like berries) to start the repair process of your skin and reducing AGEs. Also a little bit of good news is that the odd treat here and there (once or twice a month) is unlikely to do too much harm if you have a diet is high in low glycaemic index.
The Good News Sugar and Aging Can be fixed.
It's never too late to turn back the clock on AGEs damage and the affects if Glycation.  If you change your ways and cut down on sugar and high GI foods, you should quickly see benefits with you skin starting to feel seem less dry and less sensitive and slow the aging process down.x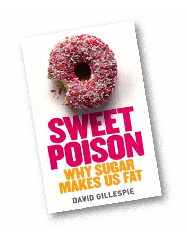 For more information on glycation, sugar and aging  go to:
The Glycemic Index — www.glycemicindex.com
David Gillespie "Sweet Poison" book – http://www.howmuchsugar.com/
Sarah Wilson's 'I Quit Sugar' e-book — www.sarahwilson.com.au/i-quit-sugar-ebook
Dr Robert Lustig is a Pediatric Endocrinologist at the UCSF Benioff Children's Hospital
View his lecture, The Bitter Truth