Long, thick lashes are something most women and men want, and its no wonder, because dark, defined eyelashes make you look more awake, attractive, and even younger. As a mad Cosmetic Chemist I have spent hours researching about ingredients and their benefits to the skin and hair.  Especially researching and formulating with special ingredients and peptides to growing eyelashes. You quickly see a lot of ingredients that make huge claims but when put to the test, they fail to meet the expected outcome. I am happy to show and say the hair growth serum that I have formulated works and here are the results.
In October 2014 – We all want them. Thick, long, lush lashes. – I blogged about eyelash and brow serum and showed the photos supplied by the manufacturing laboratory that showed an increase of 25% in lash growth appearance from my formula ingredient. But there is always a nagging voice saying can you really believe a manufacturer and the science behind the product ingredients. In this case yes. On the 10 February 2015 I started applying the serum to my eyelashes and then about 3 weeks later I was noticing that my lashes looked thicker/fuller/more intense so while on the way to a meeting I thought I just take a selfie and see if my lashes had changed over the time. It was exactly 21days. As you can see these are not professional photos taken in a control environment under proper studio lighting. There has been no doctoring of the photo. They are quick selfie taken with my Iphone. The results are still very clear. The lashes appear to be longer and there seems to be more lashes.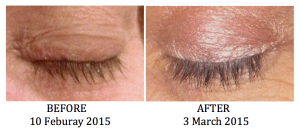 Why did I get the fantastic eyelashes growth results?
The aim of the eyelashes and hair growth serum was to achieve the appearance of length, density and thickness – in a new, gentle and natural way. Using unique natural sebum base formula that was design to carry the peptides through the stadium corium layer (first layer of the epidermis) to enable the peptides to be delivered to the cells that would benefit from them. This formula was also designed to ensure that the peptides were not destroyed or weaken upon application. Thirdly I used high quality peptides that had are naturally identical to the peptides that our bodies produce. The results are outstanding.
In this formula there is several peptides to promote growth and health of the hair. Peptides behave as dispatchers signalling cells to carry out specific functions. The two main Peptides used in this formula is – Myristoyl Pentapeptide-17 –  a keratin stimulating peptide shown to visibly increase eyelash length. (Keratin is a sulphur containing protein that is the main component of the hair, skin and nails). The second peptide is a Soy Peptide –  to improve Microcirculation to Hair Follicle ensuring that the hair is receiving maximum nutrition and blood flow to the hair follicle.
Were there any outside influences that would have impacted on the result?
Eyelash growth cycle – Science
Eye-lashes have a similar growth cycle (anagen, catagen and telogen) like all hair on our bodies and vary in thickness, proliferation and strength. However, what separate eyelashes from hairs on the scalp, for example, are unique properties of their growth cycle: a relatively long telogen (shedding) phase and a short anagen (growth) phase. On the upper eyelids, we have around 100–150 lashes, arranged in two or three rows of follicles. The lower eye-lashes are fewer in number, by about half.
The life cycle of eye lashes can range from five to 11 months, with the anagen phase lasting one to two months and the telogen phase four to nine months. The differing lengths of the anagen phase amongst different individuals have an effect on the final hair length. Only 40 percent of the upper lashes and15 percent of the lower lashes are in active anagen growth at any one time.
Debra – Depending on your generic disposition you may be predisposed to thin, fine, short or sparse lashes or has been gifted with lots of the lash fullness and length. Unlike my two sisters I did not receive the genes of beautiful long thick lashes or hair but they are medium length and thin in thickness and medium in density. So I would predict that my hair cycle is about 7 months with the growth cycle last about 5 weeks.
Hair Loss affected by your health.
Eyelash loss or damage can be caused by age, illness including a variety of skin diseases, drug side effects, endocrine disorders, metabolic abnormalities, traumatic insults, inflammations, toxins, psychiatric disorders, and systemic disease and the possible physiological disorder of Trichotillomania where the person is pulling the hair out. Plus harsh makeup and removal can also cause Loss of lash.
Debra – So has my health changed over this time line as to affect the results I was not any sicker or healthier prior to starting the trial nor was I suffering from Trichotillomania. I was suffering the same amount of asthma and premenopausal condition. I had not changed any medication or vitamins etc during the test. As for makeup I have not change how much I wear or the brands. I have changed my cleanser from Moogoo oil cleanser to New Zen Dejour Cleanser, which is a gentle foaming cleanser. This may have had a small impact but since both cleanser are mild with out any harsh chemicals.
Hair Growth affected by your nutrition
Like any other part of the body, hair needs a variety of nutrients to grow and be healthy and because nutrients go to essential tissues first, like muscles and organs, your hair and skin is last to be fed. So it is important to get enough and a variety of nutrients to ensure you can grow your hair. The important nutrition needed for hair growth is zinc, Omega-3 Fatty Acids, Protein, Iron, Vitamins A and C, Magnesium, Selenium.
Debra – To be honest I did indulge over Christmas and had not been taken any of my vitamins on a regular basis and have only in the last week started taking my omega 3 fatty acids again. As my diet is always high in protein, iron and vitamins A and C I believe that my diet had little affect on the growth of my lashes if anything may have hampered it.
Put away the temporary make-up tricks to increase the appearance of your eyelashes, we finally have a more long-term solution for boosting your eyelashes  with Zen Dejour Eyelash and Brow Growth Serum. This eyelash growth serum simply works because of months of research and testing ensuring the highest quality of ingredients were used and they can be deliver to the cells that help grow your lashes.