So many companies state that they are using Stem Cell in their cosmetic creams and they are just simply misleading the consumer and the uneducated media. Stem Cell therapy is controversial fields of medicine and ethics and has many people jump up and down with false claims and beliefs. It is time to shed some light on the subject of "Stem Cell Cosmetic Products" and understand what you are paying for.
Stem cell therapy and the study of stem cell are very important for anti-aging and the healing of any damage skin or body. Dr Russell Vickers and Dr Peter Vickers leading specialist in stem cell therapy and regenerative medicine state, "Stem cells are the cells that regenerate and repair the physical body. The main areas of stem cell storage are the adipose tissue (body fat) and bone marrow. Stem cells are responsible for the regeneration of the physical body, replacing cells that die off".
The interesting part when reading the research on stem cell therapy is that the Specialist like Dr Vickers is that they remove the stem cells from the patient and after processing then they then re-inject the patient's stem cell in the area of needing regeneration. These stem cells are still alive and need to be alive to do their regeneration magic.
So with this knowledge there is no cosmetic product on the market that has live stem cells. The FDA and all other authorities will not allow for live human cells to be sold in any form. It is quiet simply if a product says it has stem cells in their products the cell is dead and will offer no positive regeneration factor to your skin or there is no stem cell ingredient in the product.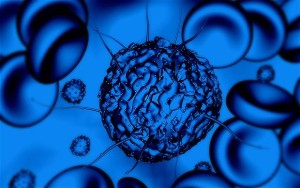 Despite the media hype touting that Oprah Winfrey was using stem cells from foreskin or the use of human fat – adipose – in one of her skin products. She was not she was using a product that was claiming to have real stem cells they were using human fibroblast conditioned media. So what do these so call "human fibroblast conditioned media"  do?
Human fibroblast conditioned media also known as human adipose stem cells or epidermal growth proteins appear in a variety of cosmetic creams and serums. The first thing "Human fibroblast conditioned media" – is not a recognised ingredient register with the European Commission database. The conditioning media is a solution of sugars, amino acids, proteins all ingredients to feed stem cells to allow them to grow. They are not stem cells. It is used in products from an MLM product "LUMINESCE by Jeunesse, Skin Medica TNS Essential Serum, ReLuma's Skin Illuminating Anti-Aging Serum and Osmosis Stem Factor serum. What is in their "special conditioning media" we are unable to find out. They may work and they may not work.
We have all seen it on the TV and on many advertisements for anti-aging products stating that they use apple stem cells or other plants based stem cells. I have tried to find research on these ingredients to help understand the interaction of plant cell and human cells and I found a study that showed animal cells will help stimulate plant growth. But no study has shown plant stem cell human cell. Scientists at the John Innes Centre in Norwich, UK, found that plant stem cells were very sensitive to DNA damage and once they damage, the plant trigger an action to put the cells to death. The scientist found harvesting plant stem cells extremely difficult if they could find them at all. There isn't much research on what they do when in contact with human skin. The so called "apple stem cell" is actually apple leaf extract and with many extracts they contain a variety of chemicals that can be beneficial to the skin. For example Hondrus Crispus, a red seaweed found only in the cold waters off the Atlantic coast. This seaweed extract is full of mineral salts, trace elements, proteins, and vitamins, and it is great to soothing the skin plus is has many anti-inflammatory properties and healing properties. Very hydrating leading to calm and plump skin reducing the sign of aging. Apple extracts is full of anti-oxidants that help fight free radicals and also help fight the signs of the aging.
There are so many different amino acids, peptides, vitamin and anti-oxidants and proteins that will help to excite the cells and to grow better healthier, stronger cells. They can even help cells to regenerate. For these ingredients to work on the skin if they are in a serum or cream that is correctly formulated to allow these ingredients to be delivered to the skin cells correctly.  But when companies do not list the ingredients fully or correctly. When they use a "names to miss lead their customers" it makes it hard to know what you are really getting and if they are quality ingredients that will give you results.  If you have any question about any product or ingredient leave a message below.