One day we will all be over 50 and since I am heading towards this age very quickly it is very sad to read a finding by NIVEA that 7 out 10 women feel invisible over 50. The question is why and what can be done to reverse this trend. 50 is supposed to be the new 40 – but is it? Being  a 50-year old woman is kinda – awesome and scary at the same time. In the NIVEA research also reveals that nearly 87% people believe ageism is a reality which is causing women mainly to feel invisible over 50 years of age. Let's face it, we all are living in a world that has become mesmerized by the image of youthfulness. Hollywood is at least partially to blame, it seems that more local than that, 70 per cent of women feel that, as they grow older, society expects them to be less sexy, there is pressure to adapt their style to something more conservative, think shorter hair and longer skirts. Sure, being age appropriate and no one likes mutton dressed up like lamb but have you tried to go clothes shopping once you are over 30. The clothing store do not stock sexy age appropriate outfits. With all the anti-aging treatments out there where are the cloths to match the mature women to ensure she does not feel forgotten.
What is being done to reverse being Invisible Over 50.
The wonderful cosmetic company Nivea is trying to do something about this by creating "What I Know Now" campaign where they are inviting women aged 45+ to share their stories to provide positive outlook. Also their younger customers said they wanted to help older women feel more confident and visible by constantly remind their mothers and other women in their lives how important and worthy they are. To help stop women over the age of 50 from feeling invisible and to boost morale in women of all ages, NIVEA has launched the "Standfirm campaign", which encourages mothers and daughters to support each other and to build their confidence and worthiness.
This is a great initiative by Nivea and what can we do to make our 50's the New 40 or even 30's. Yes your youth may be behind you but there's a group of scientists who say we should be looking forward to 50 rather than marking the beginning of the end, our half-century heralds the start of our best years. Free of the stresses of forging a career, finding a spouse and bringing up young children, our worries fade and feelings of happiness start to surge. We also enjoy life more and begin to become more content.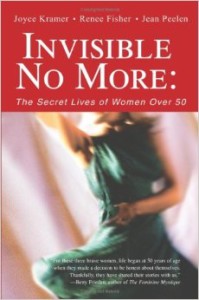 There is a great book Invisible No More: The Secret Lives of Women Over 50 by Renee Fisher , Joyce Kramer, Jean Peelen an illuminating personal experiences of three women who have faced the challenges of aging. The Authors Renee, Joyce, and Jean tell their three very individual stories of a journey to age fifty and beyond with grace, humor, and humility, sparing no details in revealing their ordinary yet outrageous lives. Believing that fifty is not merely an age marked by time or another milestone to cross, Renee, Joyce, and Jean will inspire you to reevaluate the direction your own life is taking, teach you to be open to taking risks, and gently encourage you to seek the infinite possibilities that lie ahead of you. You do not have to be invisible over 50 years of age
Here are my Top 5 things that will help ward off some of the nagging signs of aging that can knock ten years off the clock and make you glow. It is very hard to be invisible when you are active and glowing with health.
Daily Vitamins: I can't emphasize enough the difference  that take a few extra vitamins a day it will make to your health and skin. Biotin for hair and nails, Glucosamine for joints, Super Vitamin that contain B-12 for energy and vitality, Vitamin D and Calcium for your bones, Vitamin E for skin, Ginseng for energy, Ginkgo Biloba for alertness and well being, Vitamin C for immune system, Acidolphilus for digestion and Omega 3 for to curb stiffness and joint pain, Depression and reduce the risk of Alzheimer's disease and dementia.
Proper Diet: Be mindful of what you eat and drink. Simple easy just keep sugar and flour to a very low minimum. Increase your vegetable and fruits intake and include good proteins. This will not only help you to have great health but will ensure you reduce your chances of middle age spread and suffering badly from menopause. The doctors diagnosed me with early on set of menopause but when I cut out sugar from my diet – I am no longer suffering or going through menopause plus have lost over 15kgs.
Exercise: It has never been easier to be fit. On of the best things on the market that will help you get fit is Fitbit, a small wristband that tracks every move you make and knows when you are lying. Walking, gym, running zumba what ever gets you moving and shaking. The best side affect of exercising is that it will lift your spirits and reduce depression or low feels about oneself. Also it gets you socializing and gives you a chance to communicate  and laugh with your peers. Laughter is such a wonderful medicine.
Good fitting Undergarments and clothing: The magic of good fitting undergarments can hide a multitude of sins. To hide unsightly lumps and bumps, Wearing leggings under your jeans and trousers to help lift  your butt and give you a great line. Don't hide under overlarge clothing or where clothing that is for someone in a nursing home are force to wear. Wear chic, classy and classic style. Simple Jeans and white shirt looks better than T-Shirt and trackie pants. "Dress shabbily, they notice the dress. Dress impeccably, they notice the woman" – Coco Chanel! 
Great Skincare and regular visits to your skin therapist: Now you can go and have Botox, Juvaderm or a quick laser treatment and return to the office looking like you had a mini lift but you still need to have healthy skin. Read Stay Young even with the loss of Hormones after Menopause just like your diet your skin needs vitamins A,B,C and E, peptides and hydrating.
As we age, it's not about looking like we were in our high school picture but about choosing a self-care regiment that puts the sparkle back in your eyes and the bounce in your step. Taking good care of yourself definitely has its rewards. You not only feel better physically and stronger,  you will be able to do more fun activities. Embracing life with gusto and never feeling invisible again.