There are so many different  makeup-brushes on the market and they are price from a few dollars to hundreds so it is hard to know which ones you need and how much you should spend on the makeup brushes. Makeup brushes are like using the correct wine glass with the wine your drinking. You may not think it makes any difference to the taste of the wine but it makes a huge difference. I have brushes that cost an arm and leg and others were a bargain. Most cheap brushes are not well made and the hairs fall out when you are using them on your face or when you are cleaning them. All good brushes are made so that they do not shed. So take your time a choose carefully.
The first thing that you must think about before buying any brushes Synthetic or Natural (animal hair) The main difference natural are great for powders as their natural pores picks up the pigment, transfers it evenly on the skin. The main type of Natural makeup brushes that you'll find on the market is goat, sable hair and over time, they do soften. My pick of natural makeup brushes is Wayne Goss, makeup brushes handcrafted in Japan with the softest, 100% cruelty-free natural hair bristles. Synthetic brushes are great for creams. But you can use synthetic for powder with the same results as natural. My favorite is high grade Japanese Synthetic Kabuki style Brushes. The synthetic hair is made and cut to give the quality of natural brushes.  As a makeup artist and lecture I personally prefer synthetic over natural just in case my clients or students are allergic to Natural Brush hair.
Below is the 8 must have makeup brushes for all makeup kits.
1. Foundation Makeup brush – Designed to achieve a smooth and flawless finish, the bristles are tightly packed with a tapered tip for fluid application.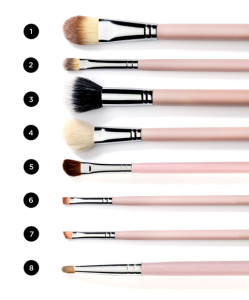 2. Concealer brush -A soft bristled, flat brush with a wider base and a pointed tip. Use to apply concealer under the eyes, to spots and to camouflage problem areas such as broken capillaries and areas of dis-coloration.
3. Fluffy powder brush – This brush is ideal for buffing and blending color. The flat, circular, feathery head provides lightweight and build-able coverage of liquid, cream or powder products.
4. Blush brush – Made with fine, gentle fibers the blusher brush has a rounded head, which is perfect for applying color to your cheeks. Sweep and blend along your cheekbone drawing the brush up into your hairline.
5. Small blending brush – Use this light brush to blend eye colours and to highlight the brow bone.
6. Flat eye-shadow brush – Large, flat, short and brimming with bristles for excellent coverage. The soft bristles have a beveled edge for a smooth application without 'dragging' the eyelid. Use to apply all over color.
7. Precision angle brush – Used to define and fill brows for a beautifully symmetrical appearance. The bristles are stiff and angled for precise control. Apply powder, liquid or cream in short strokes mimicking the hairs, fill sparse areas, shape and elongate for a perfect brow. Pictured
8. Lip brush – The sculpted tip of a lip brush is perfect for achieving a flawless line. The bristles are short and firm for controlled application.
Finally, don't forget to clean your brush cleaner regularly to prevent makeup build-up and stop bacteria developing. As per Is your Mineral Makeup causing you to breakout-blog using dirty brushes can cause skin problems and breakouts. It is recommended that Foundation, eyes-shadow and lip brushes be cleansed after each use whilst all other brushes can be cleansed once a week.